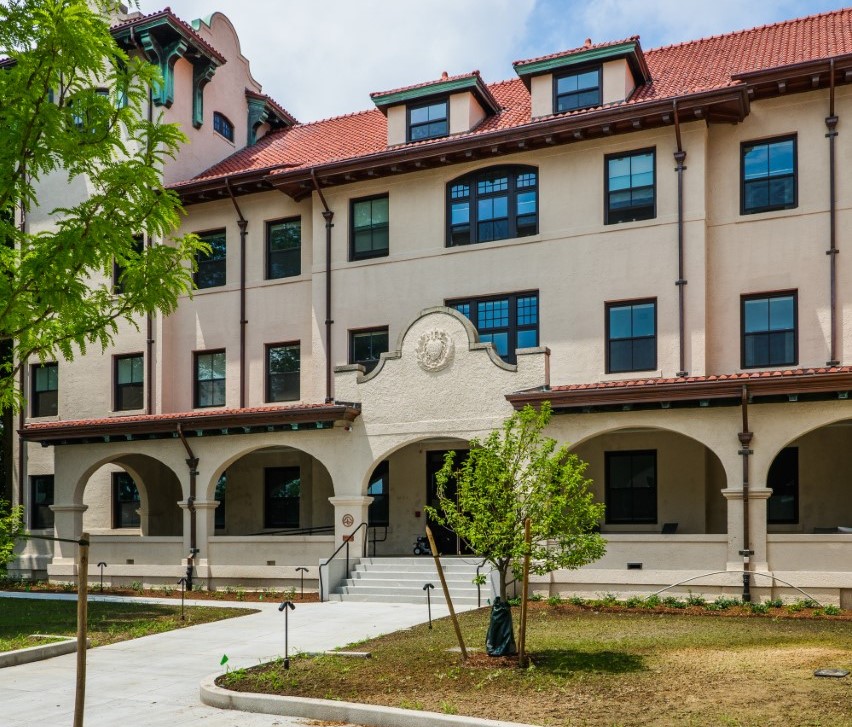 The Overlook of the last rental property in St. Gabriel is completed
The fourth and final rental property of The Overlook at St. Gabriel's has opened and welcomes new tenants.
The building, Overlook West, brings an additional 237 apartments to the development, bringing the total rental units to 555 split between Overlook West and three other buildings: Overlook Landmark, Overlook North and Overlook East. Over 90% of the units in the first three buildings are currently leased.
Overlook West is located at the west end of the property and includes amenities such as a medication yard, a lounge with fireplace on the first floor, and a resident lounge on the fifth and sixth floors with pool views.
Located at 161-185 Washington St. in Brighton, The Overlook at St. Gabriel residential area includes the redevelopment of a historic church and monastery.
"There is no other property like The Overlook in St. Gabriel in the Greater Boston Area, and this latest milestone marks a significant achievement for our team," John Sullivan, Executive Vice President of Cabot, Cabot & Forbes, who developed the property, said in a press release. "The opening of Overlook West will complete our rental community, and we look forward to welcoming our new residents in the coming weeks to enjoy the vibrant and distinguished lifestyle that we have established here. "
When completed, the development will include 660 residential units spread across 105 condominiums and 555 apartments, as well as other amenities such as a fitness center, cafe, outdoor pool and grills, business center and a co-working space. The condominiums are expected to be delivered in 2022.
The project has been approved by the Boston Planning and Development Agency in 2017. It includes four residential buildings, the restoration of the historic Monastery of St. Gabriel and the adjacent church, the conservation of the existing Shrine of Our Lady of Fatima and the renovation of a vacant house at 201 Washington St. A three-acre Olmsted Brothers -the buffer zone along Washington Street will also be restored and improved.
The project received two awards for a new development: The Boston Preservation Alliance Award, presented annually to projects that honor historic preservation efforts in Boston, and a Preservation Massachusetts Mayor Thomas M. Menino Legacy Award, which recognizes projects that are transformative, catalytic, embrace community, create partnerships and revitalize the best of the past to do something good for the future, the statement said.