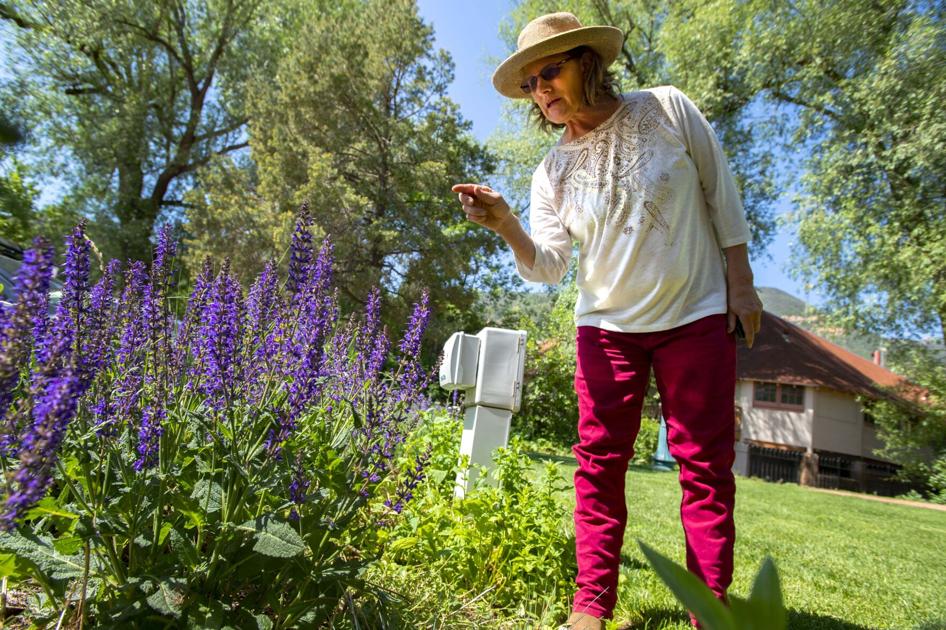 Manitou Springs Initiative Seeks Pollinator-Friendly Certification | Way of life
At the edge of a parking lot in Manitou Springs, there is a modest garden measuring 40 feet long and 4 feet wide.
It is a "pollinator-friendly garden," according to a posted sign. It's not that pretty, admits Melody Daugherty.
"People want showy roses and petunias that are not native," she said. "But for our pollinator populations to be healthy and thriving, we must become indigenous."
This is part of the mission of the Manitou Springs Pollinator Project, a local effort led by Daugherty.
The group's website discusses the plight of these creatures – butterflies, bees, moths, beetles and hummingbirds among them. They carry pollen between plants, allowing them to produce seeds.
A vast array of our food and other crops depend on pollinators, which is why their reported decline due to development, chemical use and climate change has been viewed as a crisis.
A global analysis in 2019 warned that 40% of insect species had declining populations. Other analyzes suggest that bee populations have been declining since the 1990s. According to a study published last year, the loss would be more drastic for monarch butterflies migrating west, down 99.9% since the 80s.
The numbers make Daugherty squeeze his chest.
"Sweetheart," she said. "My heart."
Her passion in 2019 led her to Amy Yarger, Horticultural Director at the Butterfly Pavilion.
By its description, the Westminster nonprofit aims to "transform the way people think about invertebrates," which is known with a rainforest-like exhibit where 1,600 butterflies frolic.
Yarger's focus: "How to put the habitat back in place to increase biodiversity?
An answer to this question was presented in 2019, when Butterfly Pavilion announced plans for a "pollination district" in Baseline, the emerging residential and commercial area in Broomfield that will eventually serve as the organization's new home.
The baseline would be the first location of its kind certified as pollinator-friendly, with the appropriate vegetation, gardening practices, and invertebrate inhabitants to show for it.
Then came Daugherty.
Could his hometown of Manitou Springs be the first pre-existing city to be a pollinator district?
She and Yarger explored the possibility.
Next Saturday, near the pollinator friendly garden at Mansions Park in Manitou, they will be hosting a "Pollinator Party" – a free family event that will include activities and promote the Pollinator District vision.
This vision is shared by Fountain Creek Watershed, Flood Control and Greenway District, the nonprofit with a broader regional reach, as well as the Manitou Springs School District, where leaders are committed to teaching pollinators.
Manitou Springs' path to the pollinator district designation will take years, Yarger said. Success depends on measurable results, including attracting more pollinators through community-wide planting practices, from private yards to public sidewalks and open spaces, she said.
"It's important to know that it's not Butterfly Pavilion going into a community and saying you have to do this and that and that," Yarger said. "It's really a community-driven effort. "
There would be a "social and educational" component to encourage residents to be friendlier to pollinators, she said. "How is everyone informed and engaged? "
Enter the Manitou Springs Pollinator Project.
At Mansions Park, Daugherty and other concerned residents tend to use the pollinator-friendly garden to serve as a small showcase of native drought-tolerant plants.
More seeds are on the way, Daugherty said: annuals such as the Rocky Mountain honeybee, perennials like milkweed, prairie sage, dotted flaming star, and Rocky mountain penstemon, as well. only shrubs and herbs.
One recent afternoon, Daugherty rejoiced over the buzz surrounding purple salvia.
"Oh my God! Look at this!" she said, starting to count the bees. "There's one, two, three, there's five just on that one plant." Wow. "